Post by okdoky on Apr 11, 2012 13:29:46 GMT -5
Internet connections are crap up here so short and sweet is order of the day.
Because I am on my easter break with the kids and the in laws at the family caravan in Lossiemouth, I was forced to leave the DAF DROPS at home.
Aside from the fact that I would have needed to take up so much scratch building supplies and tools, I had a fear that I would more than likely spoil what work I have done by cramming the model in boxes amongst everything else I had to take with me (everything including the kitchen sink) packed in to my 7 foot by 4 foot trailer. Something would be bound to get broken so close to the Perth show.
To keep my sanity, I decided to take a Land Rover to work on. No, not the Lightweight, as that too would have needed all my itchy scratchy stuff !!!!!!!!!!
I pulled out the Monogram 88" Landrover 7 seater Stationwagon I bought on Evilbay for £11 recently. Quite unusual to get that kit in untouched condition for so low a price.
Kit falls together very quickly. Good fit on all parts and great instructions.
Having looked under the bonnet I see that the steering box is on the wrong side for the left hand drive dashboard inside. A simple slice and dice to get it on the opposite side and in line with the steering wheel.
Am toying with scratching a soft top to replace the stationwagon top, but as I have no supplies, I am resorting to plotting out possible dimensions for a dry run in paper and in aluminum foil from a Tunnocks tea cake wrapper.
Basic body shell as single piece
The lump does not have many parts to it either and like the real thing leaves lots of space around it for maintenance. Not like modern vehicles
Chassis is one piece with addition of the axle and leaf springs front and rear including there prop shafts
Having limited myself to the max with my tools and stuff, and not having my usual access to photos, I have kept the Landy almost out of the box so far !!!!!!
Decided to drill out the kit wheel rim holes on all five, but will be looking to swap the over wide wheels and tires for a set of resin wheels and tires molded from the Italeri 109 Landies.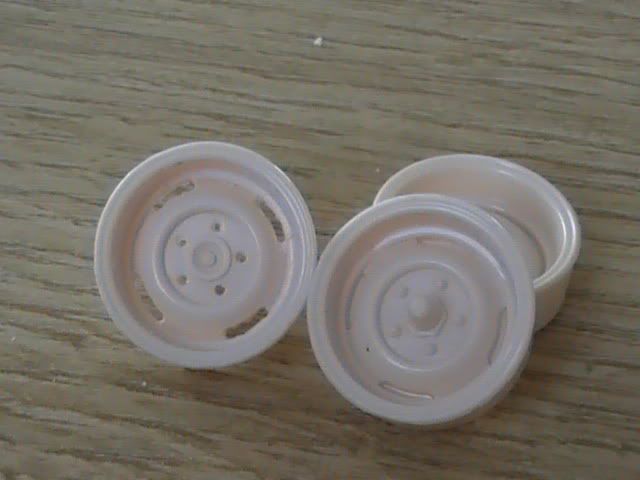 Have thrown a basic primer coat on and sprayed the chassis matt black and the bodywork Humbrol Dark Green 30. Not quite the colour I am looking for on this one, but will try to modify this when I get home with some green shades and weathering.
It is a nice kit with simple part fit and no flash anywhere.
I am thinking of making this a soft top as well and have mocked up in paper and then try various methods to make the tarp.
I have some reference photos at home for the short wheelbase Landrovers and I am toying with giving it a role with the RAF this time, possibly with the Yellow stipes for contrast.
Nige